That's right. 3-8. I've been pregnant for 38 weeks. That's kind of a long time if you really think about it. Thankfully, it hasn't felt as long as I'm sure it does for those amazing women who suffer sicknesses and complications through their pregnancies. My biggest issue the past week has been numbness in my fingers/hand. It's been driving me C-R-A-Z-Y. But I keep telling myself that things could be much MUCH worst. I can handle the numbness (thank you to my everything for swelling up on me these last few weeks and pinching my nerves!)

At work, missionaries keep asking me why I'm still working and then go on to tell me that in their countries the women have to go on paid maternity leave after 6 months. Yep, it's decided, for the next baby, we're moving to Finland.

I always hoped that I'd have a cute belly that really sticks out . Not so much. I mean, it sticks out alright, but it's really been growing horizontally as of late. It's pretty wide and lately I've been feeling the baby really far into my right side. It's almost like he's trying to push his way around to my backside. I should have expected that, given the shorty pants torso that I have.

My belly button still hasn't popped out. I'm starting to think it won't and I will never look like a "real" pregnant woman. How inny can a belly button really be!?

I get incredibly hot...ALWAYS. I think the other women at church don't like me much because they turn on the heat and I stand up to turn it back off five minutes later. But seriously, you can put your coat back on, I can't take anything else off. And when I do get hot, like, really hot, everything swells even worst than it already is. Darin and I just like to look at my fingers and laugh about how round they are.

Being pregnant sure is an adventure. A pretty fun one. I only have a couple more weeks to enjoy it and enjoy I shall.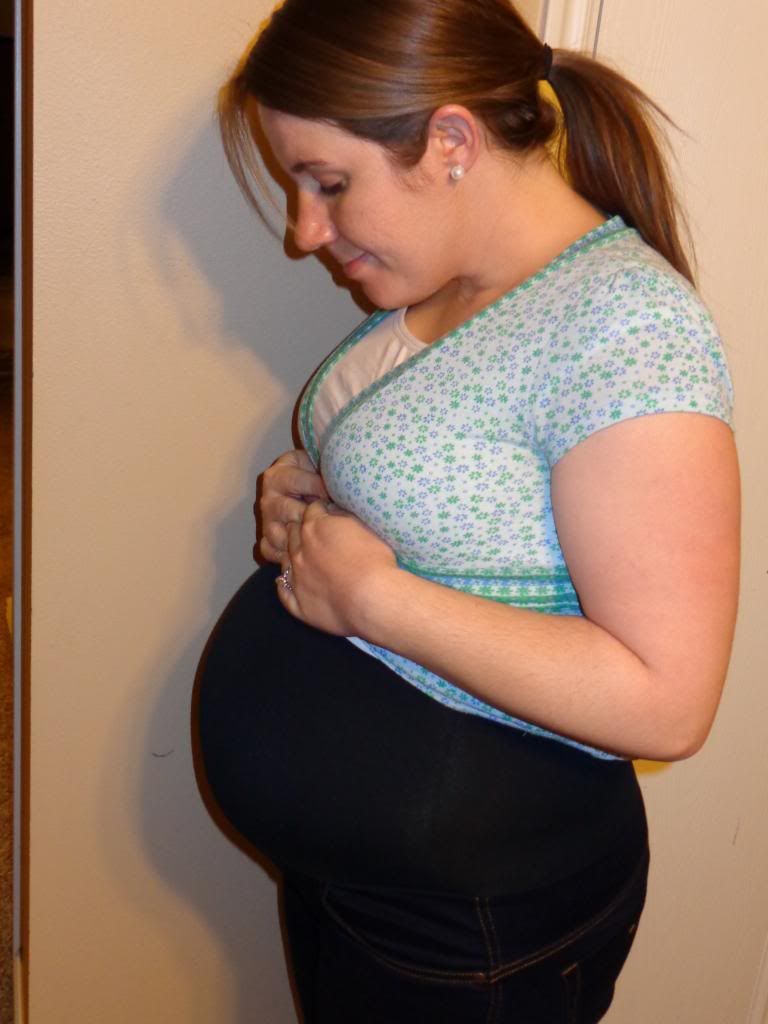 37 weeks
37 weeks
38 weeks