We drove up to Idaho on Saturday after I got off of work and came home yesterday. What did we do while we were there? We ate. And ate. And ate. There was so much good food, I couldn't stop myself!
Saturday night we got to watch Kyler's basketball game. Watching kids play sports is extremely entertaining. I can't wait till our boy is old enough to play sports. It goes something like this: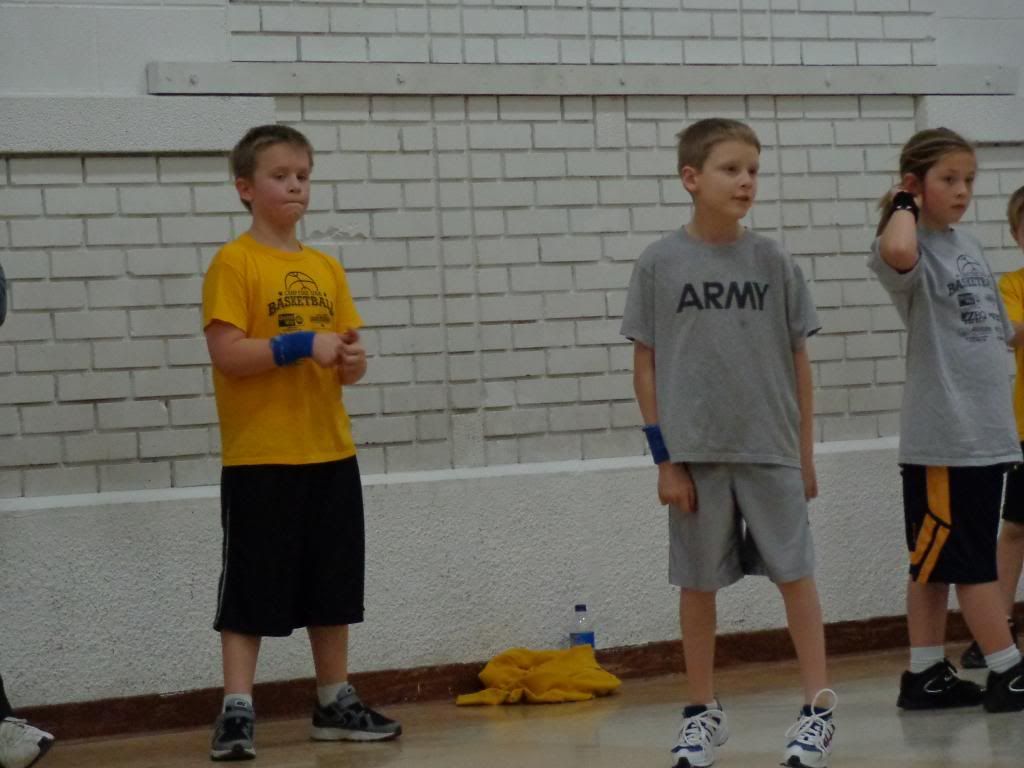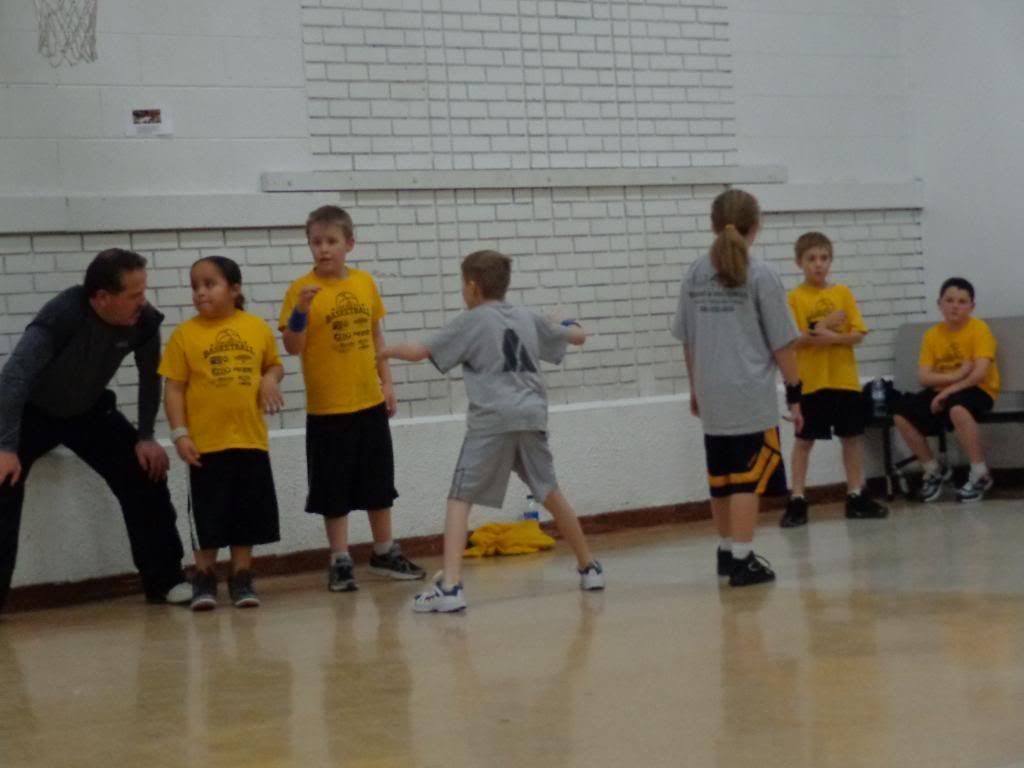 We celebrated "Christmas" on Monday rather than Tuesday because that was when Darin's brother and sister-in-law and niece were able to make it. We started the morning like this: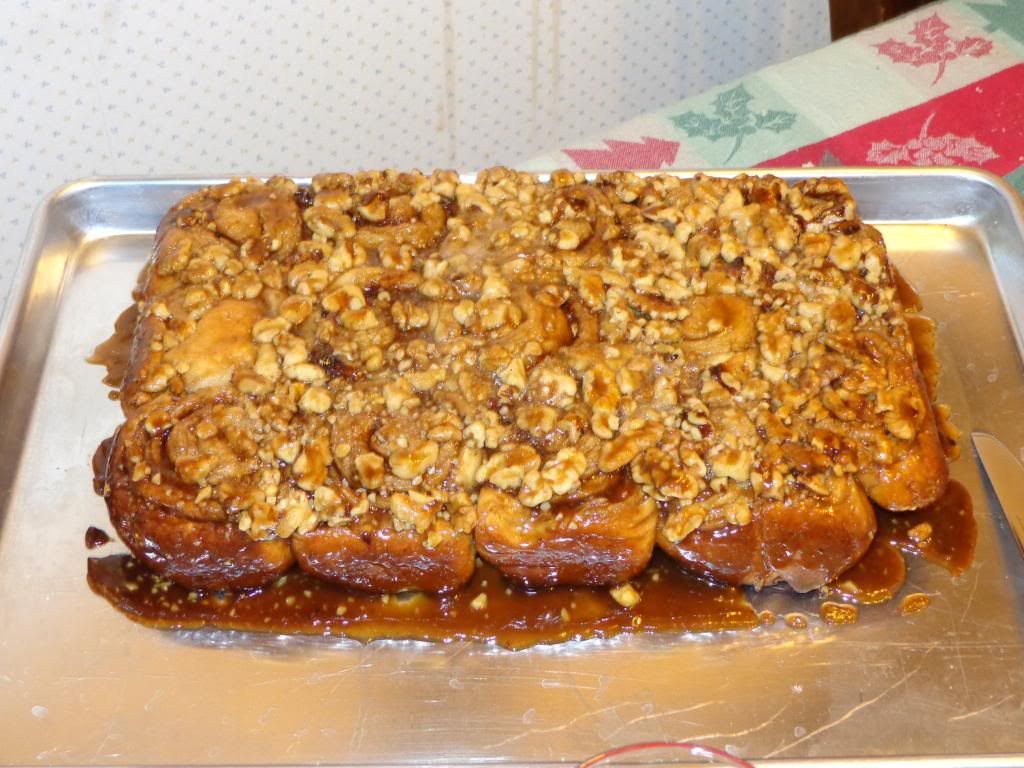 Any day that starts like this is going to be a good one.
After eating we did this:
It's always fun watching everyone open presents and seeing what everyone gets. I got a well-need and beautiful new purse that I am loving as well as a journal, candle, maternity sweater, gift card and beautiful artwork from my grandmother.


Darin got some books, a vintage BYU calender, an Orioles shirt and the commando sweater that he is wearing in the below picture (while doing the puzzle).
Our baby boy made out pretty well also:
Christmas ornaments from Grandma and Grandpa Butler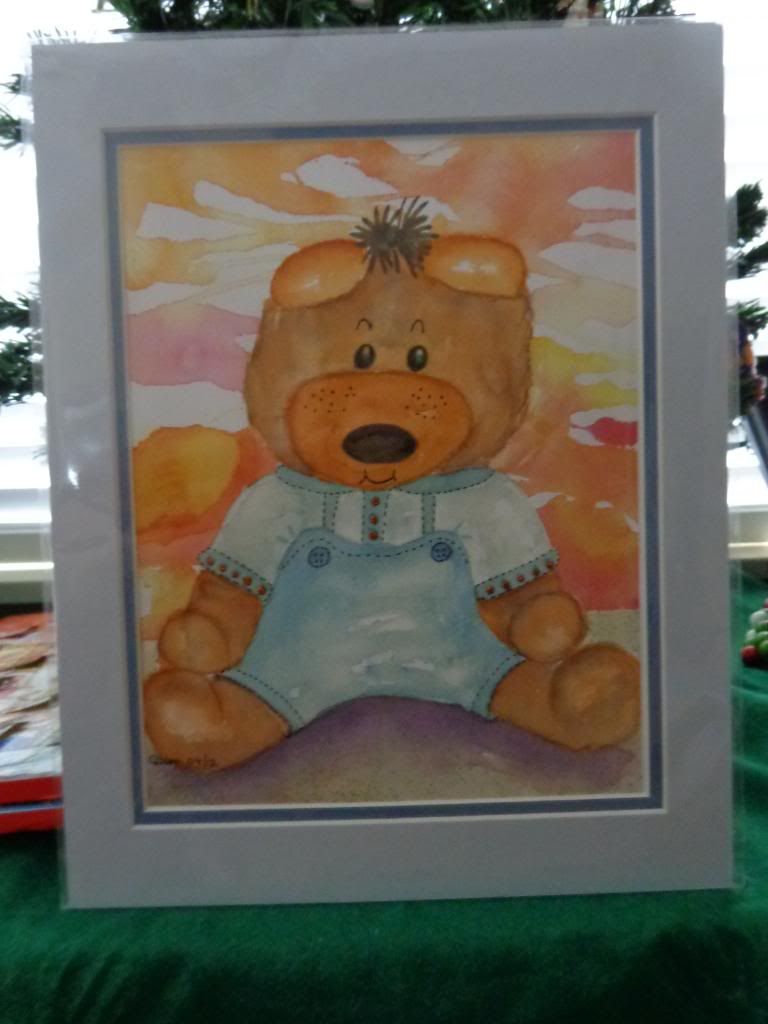 Painting, hand painted by Grandma Nancy
Fun clothes from family. Love the Argyle sweater and the striped H&M sweater! (Really I love anything baby!)

Apparently the puzzle that we got for Kyler was a bit harder than expected. Only 100 pieces, but half the pieces were black and it was a hologram puzzle that kept changing between Anakin and Darth Vadar.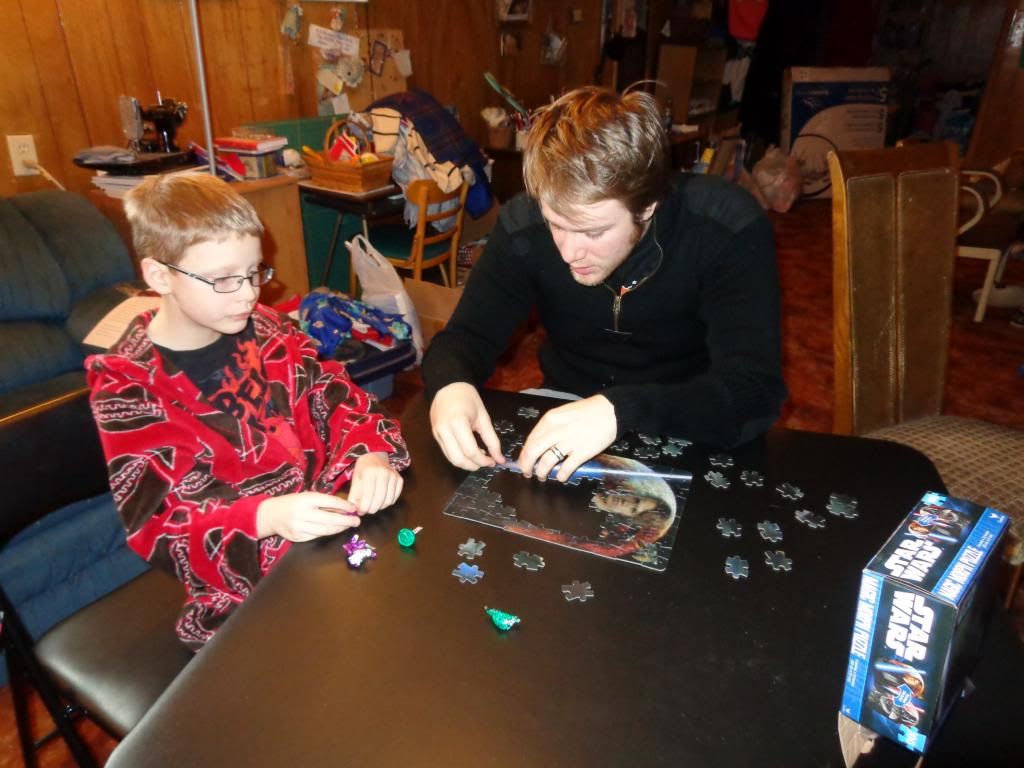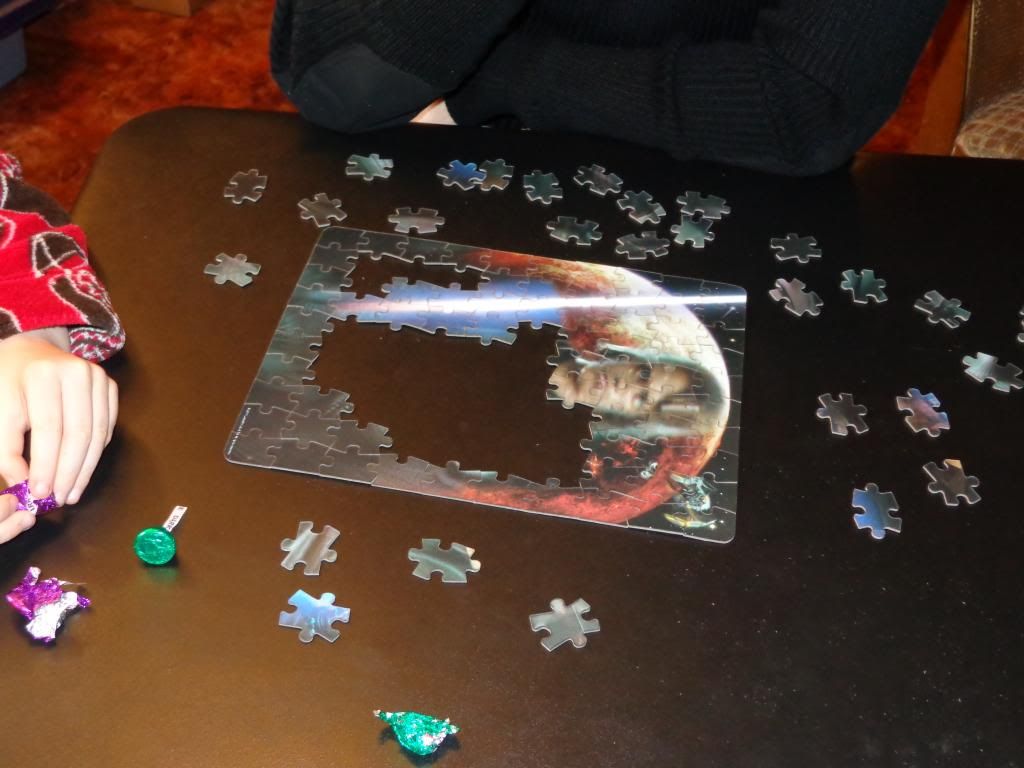 More good food with family!
The highlight of our actual Christmas day (besides another amazing breakfast while reading Luke 2 and talking about spiritual gifts that we have received) was going to see Les Miserables. The Christmas present that Darin and I have been waiting for just about all year.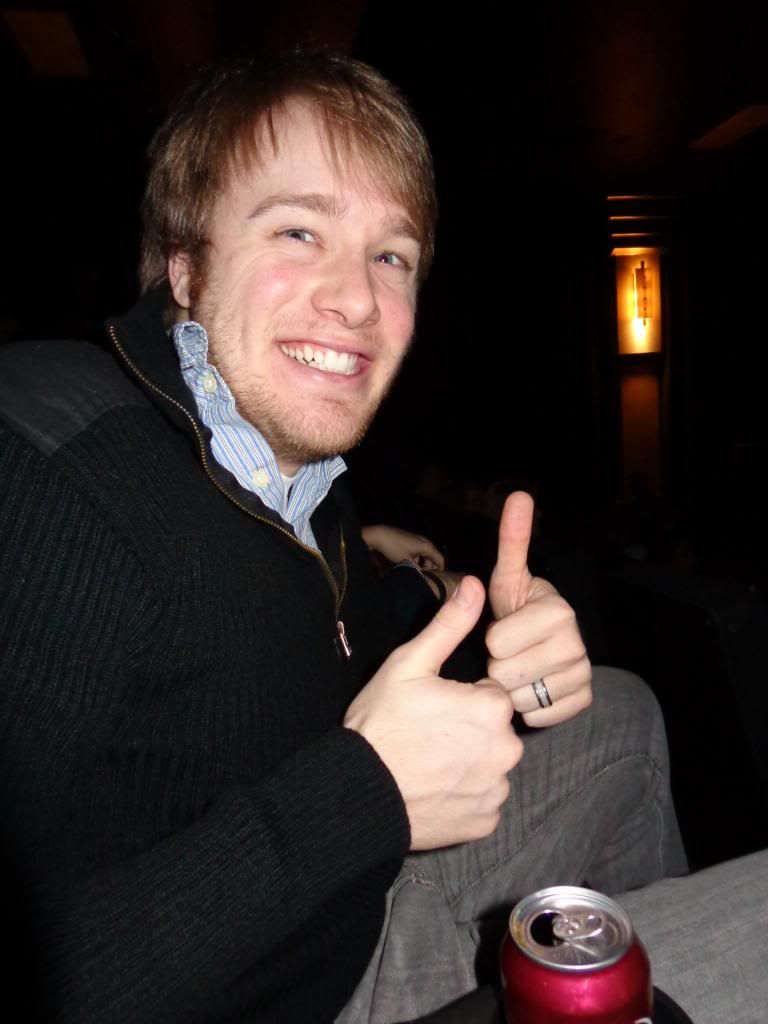 At the theater, MORE than excited
We loved it. Period.
I loved talking to my family as well. It's always hard for me on the holidays to be so far away from them. I'm so thankful for modern-day technology that makes it so easy for me to be able to talk to them in spite of the distance.
We loved spending another Christmas with Darin's family and are so thankful to have them so close and for their love and kindness as well. They really care so much about us and that means the world to us.
It's crazy to think that another Christmas has come and gone. Our third Christmas together. Time just keeps flying by. It's also crazy to think that next Christmas we will be a family of three. !!!!
I'm so thankful for Jesus Christ. I know that he came to earth, that he died and that he was resurrected and lives today. I'm so thankful for the knowledge that I have of his loving and infinite atonement which gives hope and helps me see the bigger picture. I know that families can be together forever. What an amazing blessing! All thanks to him who loves us and knows us better than we can ever imagine.