I've been meaning to write this post all week. Everyday I told myself I would do it, but during the last week of school there just seem to be so many other things that are more important. Thank goodness for reading days! I can finally update the blog! ...and study of course.
The weekend started out like this:

Going running at seven months pregnant is slightly harder than it looks (not that it really looked easy in the first place). Okay, it's really not THAT bad if you aren't clumsy like me. My poor legs, they're so confused with how to handle 30 extra pounds on top of them. The uneven sidewalk didn't really help either. So, I took a little spill. It really wasn't that bad, besides the fact that all of my weight landed on my left knee and my left hand. It's still pretty bruised. More than being physically hurt, I felt like my pride had been crushed. Especially when a lady pulled up next to me and offered to give me a ride home. How embarrassing! I look ridiculous enough running with a huge gut, then I had to top it off by falling? Really? I'm over it. Haven't run since, maybe I'll have to jump back on the horse and try it again today. Maybe.
After Darin's class last Friday we packed up the car and made our way up. We turned the drive up into a little Friday date. Normally I would prefer to just get where we're going and be there, but these days, sitting in the car for 3 1/2 hours straight is NOT fun. Especially our car, the seats aren't very comfortable (but we still love you little Escort!). We stopped in West Valley to drop some of Anna's stuff off with some friends, then made our way up to the Bountiful temple.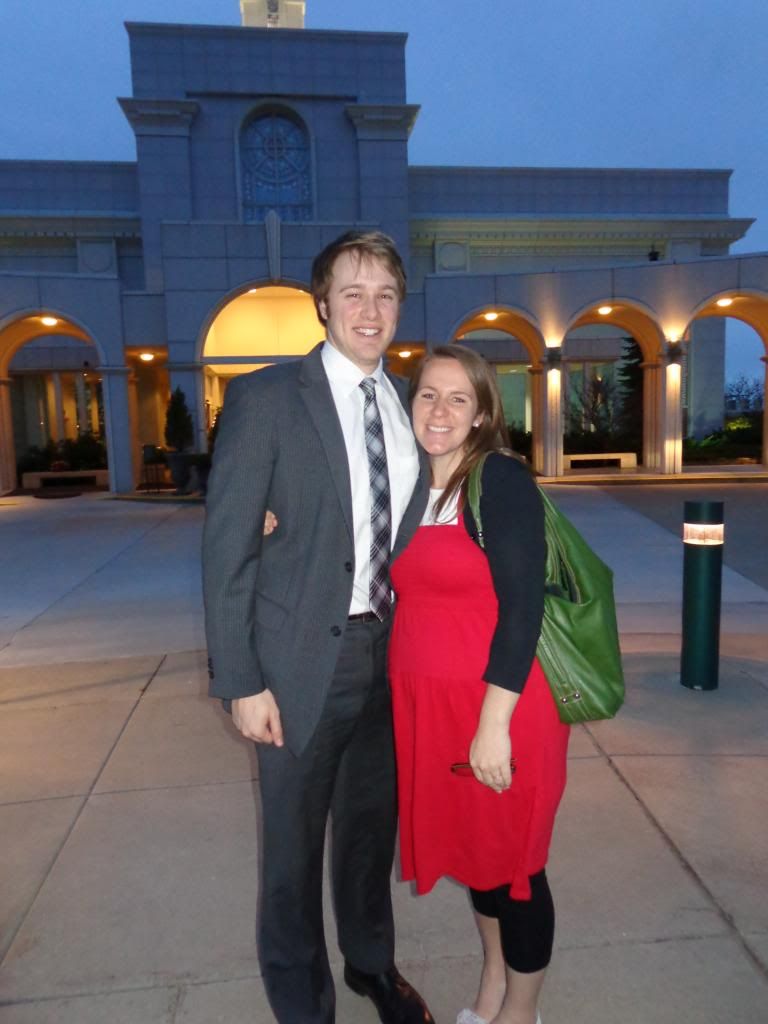 What a beautiful temple! Our 12th temple together. It's pretty fun to take advantage of the fact that there are so many temples here in Utah and go visit them. We still have quite a few to visit, not sure if we'll be able to make them all happen (like for example, Vernal and Monticello, yeah, they're kind of... far...).
After Bountiful we ran into a Chiptole (okay we didn't really "run into" it, I might have looked it up beforehand in hopes that we would find one close by, and we did! I loved Chipotle in high school and was so excited to eat there. Unfortunately, it wasn't as good as I remember it being. I think Cafe Rio food played a big role in that. Cafe Rio is WAY better. So it makes sense why I would have loved Chipotle in high school, before ever trying Cafe Rio. But from now on, bring on the Cafe Rio!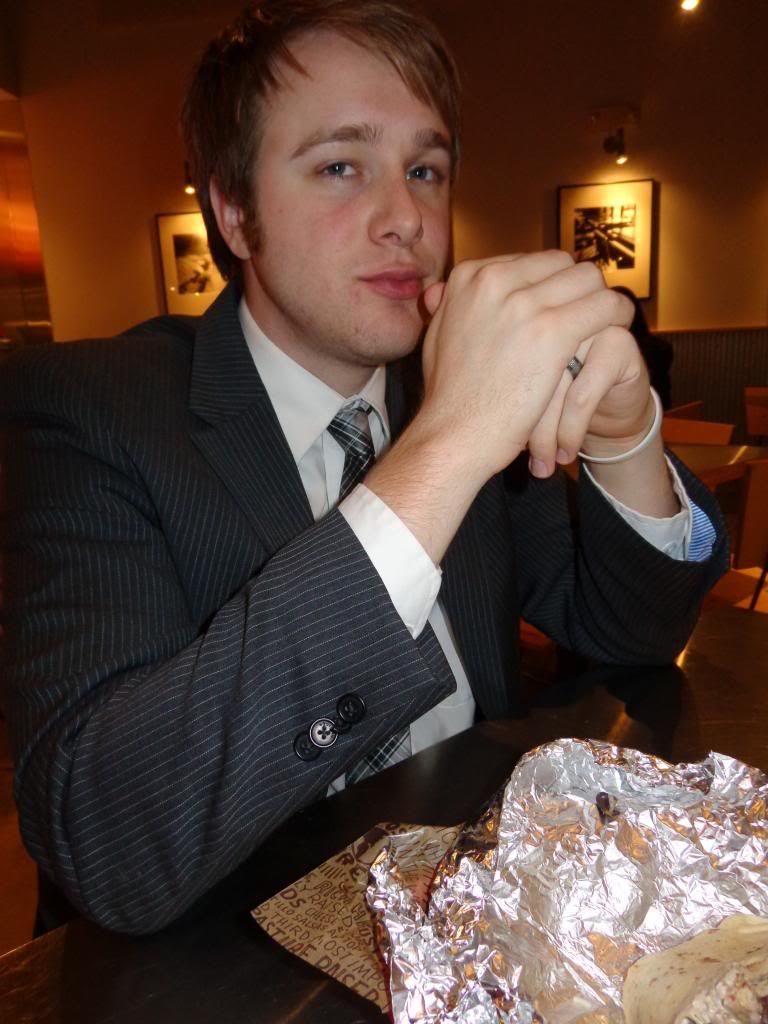 He loves it when I take pictures of him eating. Can't you tell?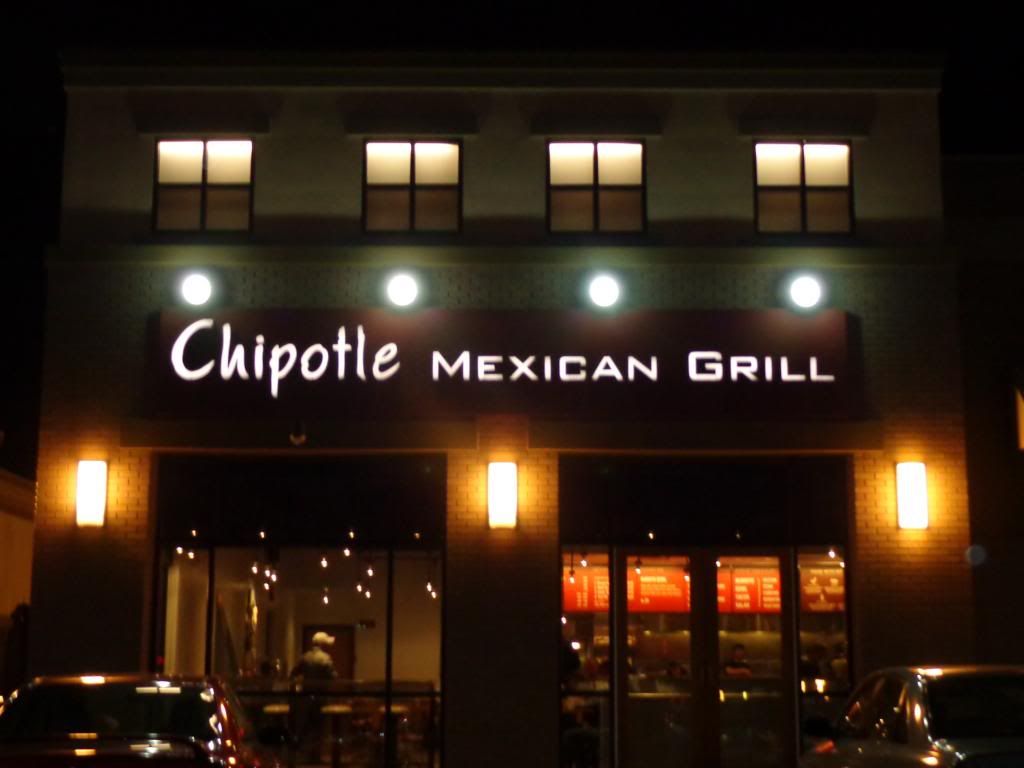 So after a fun afternoon filled with many stops along I-15 and non-stop rain from Bountiful to Pocatello, we made it! (That last hour of the drive feels sssoooo long).
Saturday night we brought Christmas to life with our nephew Kyler and Darin's mom.
We went to the thrift store earlier in the day to try and find some ugly sweaters for our Christmas cards. This was the best we could find. We'll have to be more proactive throughout the year in finding them earlier and maybe even decorating them a bit more. It was fun to try.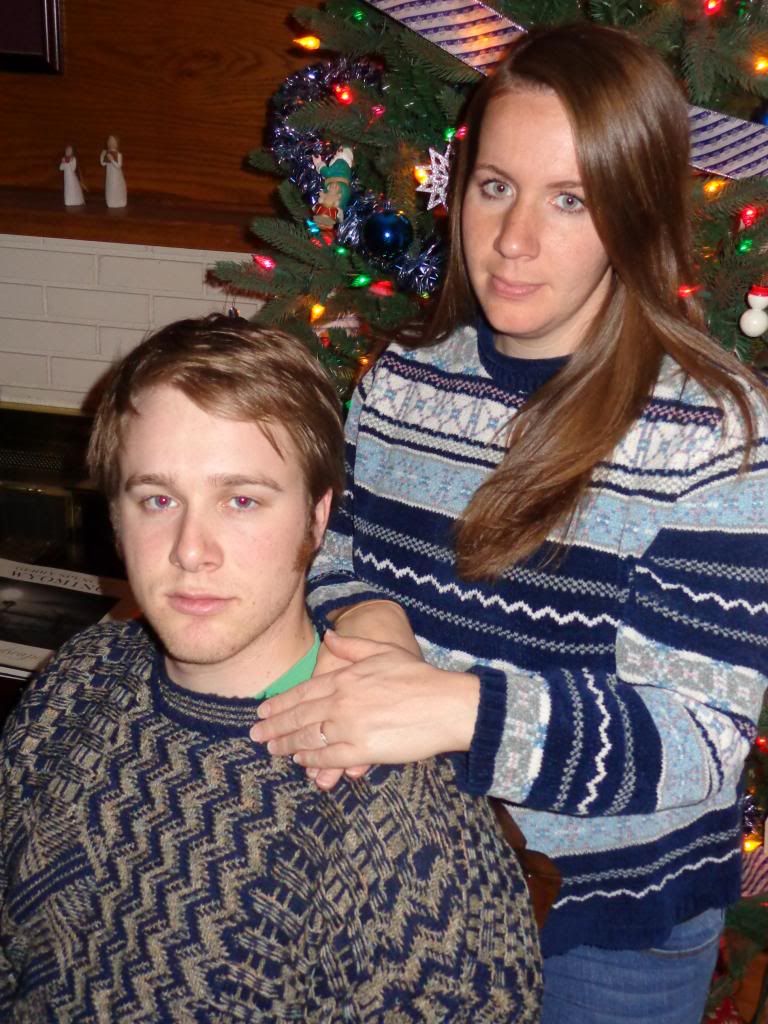 The night wouldn't have been complete without a little popcorn and Christmas movie.
Sunday was the baby blessing. It was beautiful. The baby is beautiful (I can't believe that we are going to have one of those in just two months!). I'm so glad that Darin has such awesome friends that we can get together with every so often. Their wives are all wonderful as well! It's been fun getting to know all of them over the past couple years.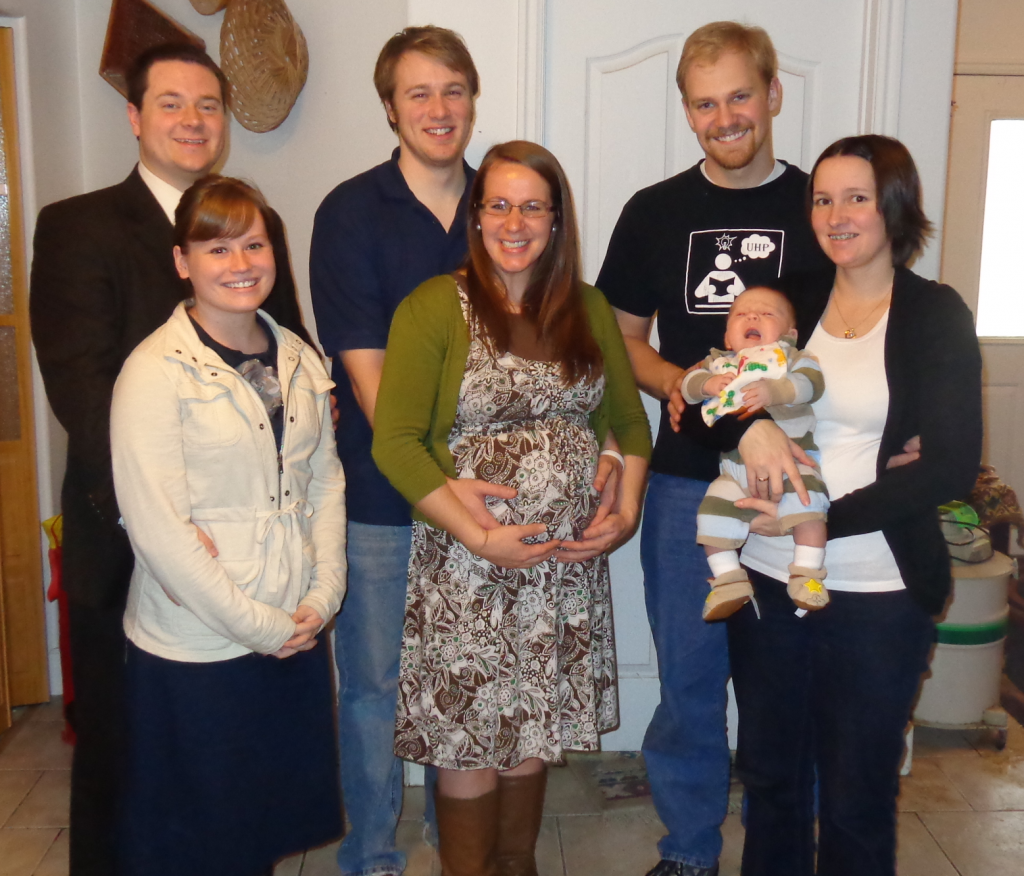 The drive home was one of the scariest drives of my life. It rained the entire time. What the!? When does it ever rain like that in Utah/Idaho? I felt like I was back home. It wasn't really light rain either and the wind was super strong. Our windshield wipers freaked out at one point and froze flopping over the side of the car. That was scary. Luckily Darin is awesome and kept everything under control. He quickly pulled over and fixed them enough to get us to the next exit where we stopped and bought some super-glue, flashlight and pliers (while trying to open the hood, I pulled the lever too hard and it came right off! So we couldn't open the hood until we had the pliers...haha...). We learned the importance of having an emergency kit of supplies in your car pretty quickly. Too bad we had to learn the hard way, but hey, let's look at the bright side, we already have a handful of things to add to the kit now :).
But seriously, the ride back was an adventure. My husband is amazing. He was such a trooper as he drove through it all, partially wet with super glue sticking his fingers together. We couldn't have been happier to be home that night.