Two years. We made it to two years! Not everyone does that you know.
Our anniversary was on Sunday which made it a bit hard to do anything too crazy-wild like we likes. But I'd say we had a pretty good anniversary week. A week filled with activities that we enjoyed back in our first few weeks of "dating world," so, needless to say, we reminisced openly about those awkward but special first dates.
We were up in Idaho for a few days last week. My mother-in-law was a sweetheart and helped us out so that we could go on a date Friday night which was wonderful. We went and saw the new Star Trek movie. It was the bomb. No no no...it was the bomb DIGGITY. So. Good.
(Reminded me of our very very very first date where we went and saw Inception and drove in separate cars there and back because we came from work. We went to Subway beforehand and Darin didn't pay for me and I was so confused whether we were really on a date or not).
Saturday we drove back down to Utah and on the way to Provo we stopped in Salt Lake so that we could hook up with our sweet friends Harrison and Jenni who totally spoiled us and took us to a Bees baseball game.
(Our third date way back when was to a Bees game. This is when I decided that I was slowly starting to fall for the boy. Take me to a baseball game and you've got my heart. He knew what he was doing. Although his ex-girlfriend contacted him while we were there and asked if she could come by and bring him a milkshake. Yeah, that was kind of awkward for me).
On Tuesday we were able to find some time between me working and Darin working to go on our "real" anniversary date (more on our work situation later). We went bowling and then to a Chinese Buffet. Nothing too fancy, but I loved it. We were the only people in the bowling alley (I guess that's what happens when you bowl at 11am). Middle of the day dates are totally the way to go. $1 a game bowling and $1 for shoes before five. Heck yeah. And of course the lunch buffet was way cheaper than the dinner buffet. Good deal.
(Our second date we went bowling at BYU and this was the first time that I started to see one of my favorite sides of Darin--his goofy entertainer side. He started moon walking while rocking out to Kesha. It was pretty sexy. Sadly there was no moon walking or Kesha this go around).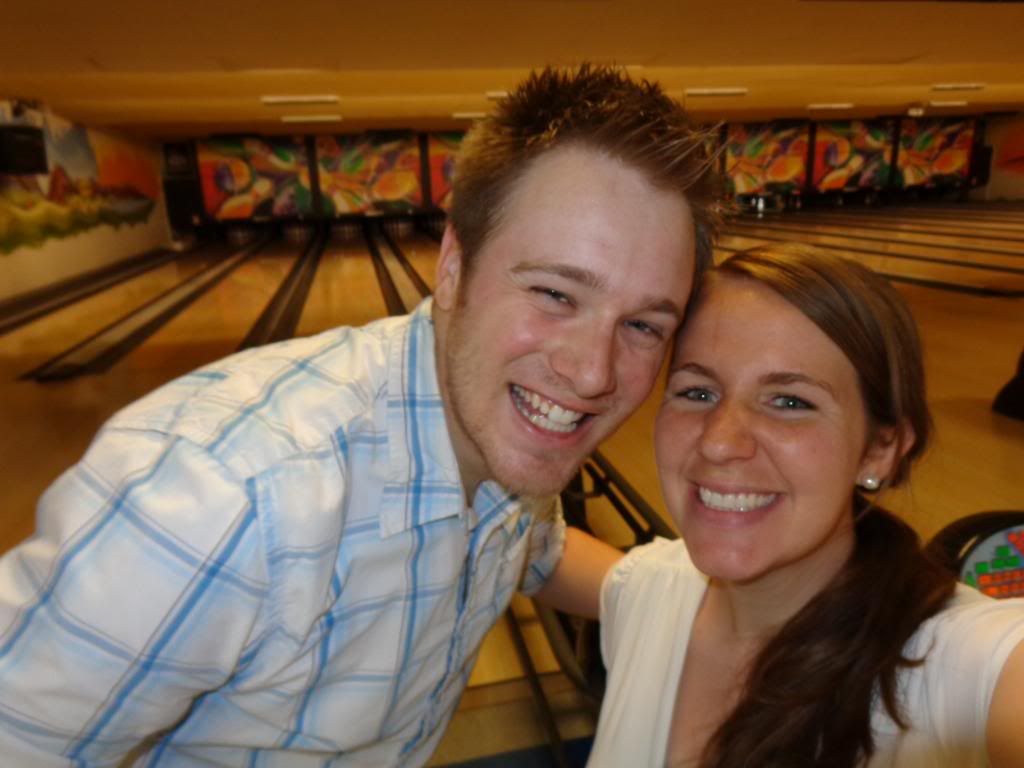 I think that my very favorite part of our "anniversary week" (if you will) was when we were driving home from the Bees game. We shared all of our memories from our wedding day (starting the night before) and honeymoon. It was so fun to remember everything that happened and how we felt throughout that special day/week.
Man oh man, the week of our wedding sure was a fun week. Honeymoon week is probably my favorite week of my life thus far (And not just because of you know what...I know you're all thinking it...you dirty-minded people), but to be with Darin 24/7 for the first time in my life! I'll never forget how giddy in love I felt that week. It was wonderful.